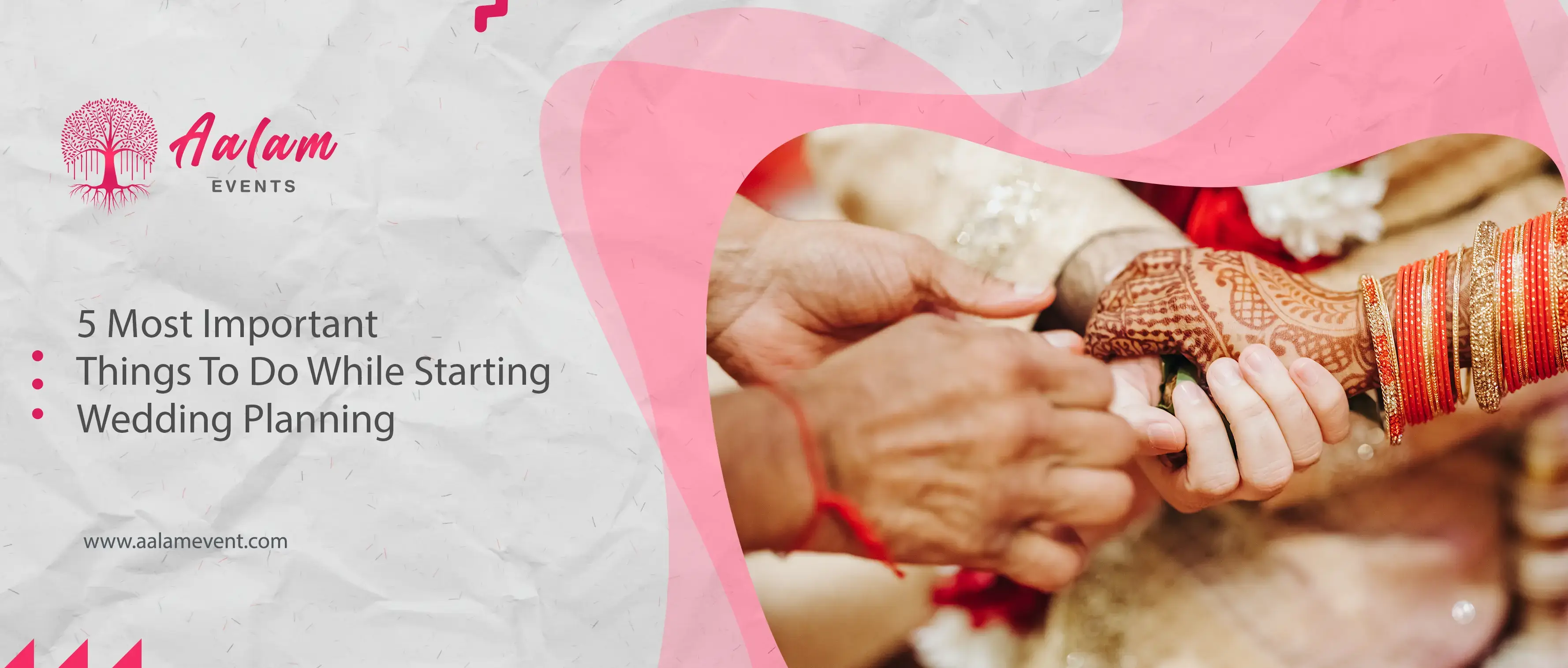 19

Aug
The top 5 things to do as soon as wedding planning begins
When you make the decision to tie the knot, it feels wonderful. Beginning with great excitement also comes great responsibility. You've come to the right place if you or a family member is getting married soon and is experiencing stress over the wedding planning.
Pick a Date That Works:
Choosing a date that works for your wedding is one of the most important decisions you'll have to make because it will affect all the others. Booking your venue and various vendors, making travel arrangements, and many other things need to be coordinated.
When finalising it, prefer to allow three to six months for wedding preparations. Being flexible with your wedding date will help different pieces of the puzzle of your wedding planning fall into place, unless you have an exact date as the main priority due to some personal reasons.
Set Your Budget:
This wedding planning requirement is frequently disregarded, which frequently results in money mismanagement. Everyone wants a fairytale wedding, but even with a fairytale wedding, you still need to watch you're spending. You need to set a budget and monitor it carefully whether you are planning a destination wedding or a backyard ceremony.
A wise approach to wedding planning is to start by determining how much money you are willing to spend, and only then move on to the next steps. Even after establishing a budget for all wedding-related costs, set aside a portion of it as a reserve that can be used to quickly address unforeseen circumstances.
Make a guest list:
Your wedding's guest list will have an impact on your budget, the location, and a host of other factors. When you can't get your guest list down to 200, you can't start planning with just a random number, let's say 100.
In this way, you can get an idea of your numbers without having to make a final list of attendees right away. With that figure, you can be sure to work within your budget and make the necessary decisions.
One of the most important decisions you must make for your wedding day is where to hold the ceremony. This ought to be done as soon as possible, especially for a destination wedding, to avoid hassles at the last minute. Would you prefer to have your wedding outside or in a wedding hall? Consider your needs and vision for the day, the type and size of the wedding you need, and the location as you choose a venue.
Hiring a Professional Wedding Planner:
Professional wedding planners can assist you in planning your wedding by providing a wide range of wedding-related services. The expert wedding planner will help you with all of the planning requirements, help you design the aesthetic of your big day, and be present on the big day to carry out your vision successfully.
Aalamevent and Weddings Can Add Elegance To Your Wedding.
Make your wedding an evening that you and all of your guests will never forget. Hire the top wedding organisers in Chennai to make your wedding day into an elegant festival. Contact and speak with Aalamevent and Weddings' qualified event managers and wedding planners right away.